A recent full page article was published in the Manly Daily  urging parents to become more educated about alcohol and safe partying for their teenagers.
Here are the important facts from the article:
Parents  are being warned to be more responsible for their children after two drunken teenagers needed hospital treatment when a 16th Birthday Party got out of control on the Northern Beaches. 
Police confirmed there were more than 150 children at the event with just three adults supervising. 
Both police and teen drug experts warn the combination of alcohol and lax supervision can mean a calm party can quickly turn dangerous. 
Gitta Johnston, Director of Life Lessons Educational Programs and  a mother of four facilitates Alcohol and Safe Partying educational workshops in High Schools  all around Sydney. Gitta said "those kind of parties are a reality now and can easily get out of control with intoxications, drink spiking, stabbings, rape and alcohol related injuries".
Last week a 15 year old girl who has been drinking heavily at a party had been unaware she had been allegedly raped until a video was shared on social media. 
In 2013 Liam Knight, an 18 year old Sydney teenager, was left with a lifelong disability after a metal rod was impaled in his skull when an underage teenager gatecrashed a party.
"A new trend of 'Ubering' to parties is a further concern as parents are unaware where parties are held,  if supervision is provided and if their child has been consuming alcohol" Gitta explained.
Acting inspector Gill Hough said that police were there to help parents trying to host parties for teenagers and urged them to call before things get out of hands, not after. "The message here is that children should not be drinking under the age of 18".
"Parents should also watch their own alcohol consumption  in front of children and was against the growing trend of adults bringing alcohol to kids sporting events" advised Gitta.
Gitta Johnston who runs the company Life Lessons Educational Programs, advises parents against giving their underage children alcohol. She also educates parents on how to deal with Alcohol and Drug issues that young people may face.
Gitta's advice for parents hosting a party for their child
Keep numbers to 30 max
Hand out printed invitations
NO social media or advertisement
Bag checks
One entrance
Sufficient adult supervision
Register the party with police at mynite.com.au.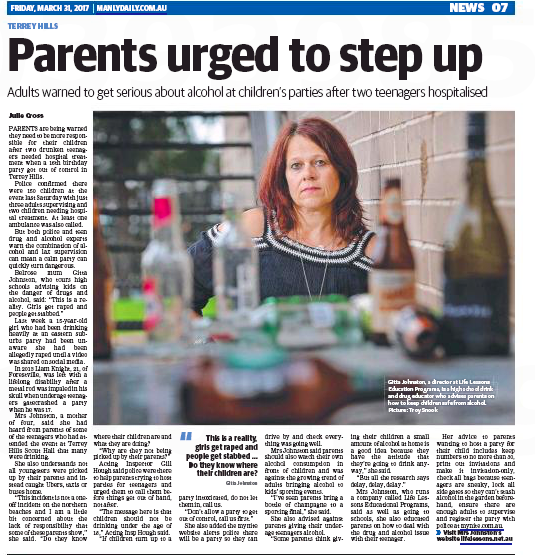 Important statistics
In 2013, 1 in 5 (21%) recent drinkers aged 14 or older put themselves or others at risk of harm while under the influence of alcohol in the previous 12 months—driving a motor vehicle was the most likely risky activity undertaken while under the influence of alcohol (12.2% of recent drinkers). Source: http://www.aihw.gov.au/alcohol-and-other-drugs/alcohol/harm/
For more information: Alcohol and Save Partying.
Contact us for more details