20% of young people in Australia suffer from some form of mental disorder. Depression is one of the most common problems
"Resilience is the happy knack of being able to bungee jump though the pitfalls of life."  (Andrew Fuller- Psychologist)
Are your teenagers building resilience?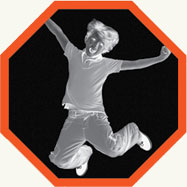 Building resilience is a life skill that gives young people confidence and positive energy. It enables them to:
Stand up
Bounce back from difficult situations
Adapt to difficult circumstances that can't be changed
Value themselves
Promote and restore self-confidence and self-esteem.
Young people need help building resilience
In today's society, children and teenagers need the personal skills and attributes to help them bounce back from challenging times. These include family breakdowns, death,illness, conflicts with friends, disappointments,bullying and social media - now a key issue that parents and teachers were never faced with growing up.
Parents now tend to helicopter their children. Rather than preparing the path for their child, they prepare the child for the path. Think about this - how often do you see parents trying to solve problems for their child, rather than allowing their child to try and solve little problems on their own?
READ MORE
Young people's beliefs, attitudes and behaviours are developed from their own personal life experiences. All of this plays an important role in building resilience and determining a child's level of confidence.
Stress can be effective
Children learn from failures and mistakes.  Its very important they learn that its OK to get it wrong. We need to teach people how to deal with failure.
As a result, children will develop positive behaviours and effective coping strategies. They will be able to control the outcomes of their decisions. They will be more likely to bounce back from difficult situations.
Conclusion
We can't stop our children and teenagers from experiencing tough times. Yet we can play an important role in helping them to become more confident and resilient. Therefore as parents and teachers, our goal must be to raise children that can handle and cope with difficult challenges and are able to bounce back.
Our tools, strategies and activities
This workshop gives students the tools and strategies required for building resilience and confidence in young adults.  Designed to promote the emotional well-being of young people, it also gives students the opportunity to develop their skills for coping with adversity.
We offer a variety of relevant activities. These include role-play, videos, games and group work.
At workshop conclusion, students should be more empowered to
Understand the effects of high and low self-esteem
Understand the dangers of poor self-esteem and little confidence
Learn from previous mistakes, resolve conflicts and bounce back
Make new friends and create resilient relationships

READ MORE

React and respond well to criticism and improve their self-control
Enrich skills in communication and problem solving
Manage impulsive behaviours and strong feelings
Develop the social and emotional skills to become resilient
Focus on the positive factors in life and make positive life choices.
Here is an example of one of our powerful short films
Click here for practical help for parents
Contact us for more details